In 1636, British settler Reverend William Blackstone (Blaxton) owned all of Beacon Hill including Boston Common. The Common got its name because the land was used as a common pasture for grazing livestock. Once the Puritans moved into the Boston area, the reclusive Blackstone moved to Rhode Island to get away from the crowds. Imagine how he'd feel today if he could see what's become of his former land.

Massachusetts State House sits on top of a hill overlooking Boston Common. On a sunny day, the gold dome sparkles and is almost blinding. The State House can be toured free of charge on weekdays between 10:30 to 3:30. Click here for more information.

Acorn Street ~ one of the most photographed streets in Boston. Under the snow is a lovely cobblestone road.
There have been many interesting and famous people who live (used to live) here:
In 1625, William Blaxton (Blackstone) ~ was the first settler in Boston and owned all of Beacon Hill.
John Hancock, first signer of the Declaration of Independence and the one with the most wealth to lose by waging war against the British, lived here most of his life and was buried in Granary Burial Ground.
Robert Frost lived here for three years in the 1930s.
Before he became a famous author and film-maker, Michael Crichton went to Harvard Medical school and then worked at Massachusetts General Hospital. He brought us Jurassic Park, Andromeda Strain and "ER".
Teresa Heinz Kerry (one of the wealthiest women in the United States) and Secretary of State John Kerry are current residents.
Senator Ted Kennedy lived here.
Sylvia Plath lived in Beacon Hill for a few years and she visited poetry classes at Boston University.She's the author of "The Bell Jar" , a classic novel about mental illness and feminism.
Charles Sumner, ardent abolitionist Senator during the Civil War lived here as did Jack Welch, the former CEO and Chairman of General Electric.
The North Slope side of Beacon Hill was a central meeting place for abolitionists when Massachusetts banned slavery in 1783. The African Meeting House, under the leadership of William Lloyd Garrison, became a lifeline for runaway slaves. Beacon Hill was an important destination on the Underground Railroad which is where runaway slaves were hidden, fed, and clothed as they fled to freedom. Many of the residents were supportive of the Underground Railroad even though there were laws enacted making it illegal to help a runaway slave. Only two slaves who made it to Beacon Hill were returned to their owners and thousands of others gained their freedom. During the Civil War, men were recruited at the African Meeting House and made up the first black military regiment in the United States, known as the 54th Massachusetts regiment.

Old City Hall and Ben Franklin Statue

Donkey Statue in front of the Old City Hall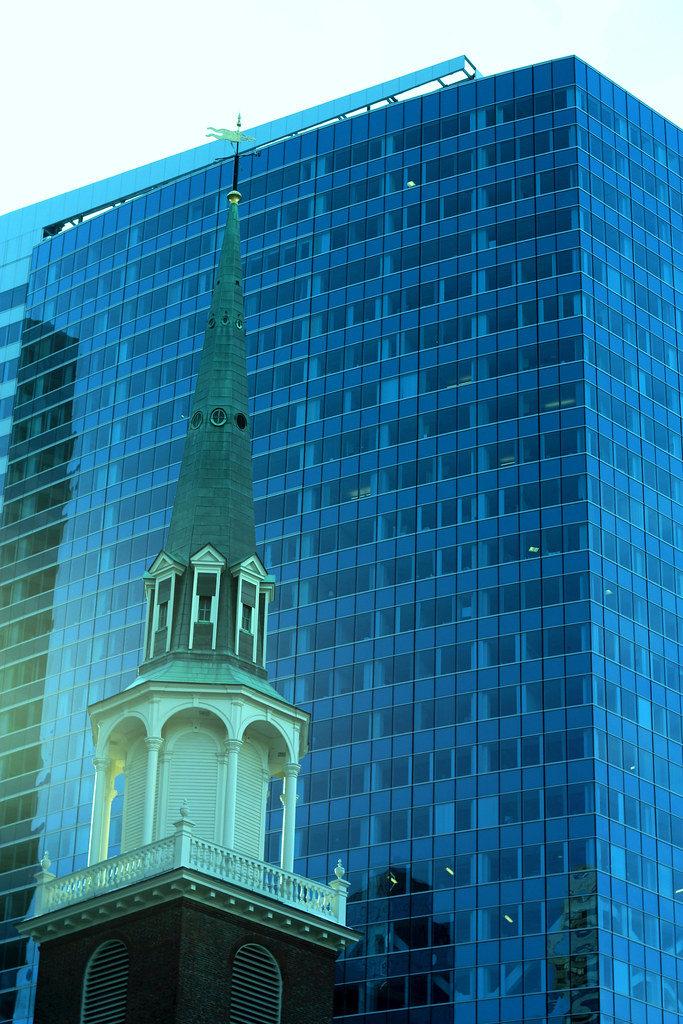 The Old reflected in the New

Couldn't resist another snow photo. If I knew a blizzard was coming with an expected 2-3 feet of snow and I parked on the street, I would move my car to a public garage for the duration of the storm and pay the overnight parking fees just so I wouldn't have a buried car.